Our experts will help you
implement your software project
Software development services
Consultancy services
Road weather information and traffic management
Industrial information systems
Software development services
Intrinsic provides productivity-increasing customer-specific software solutions. A software development process typically begins with a feasibility study and a specification phase to define and document the requirements and specifications. We can also implement a software solution using a ready-made specification provided by the customer.
Setting clear and mutually understood objectives forms a solid basis for a customer-specific software project. The services and service levels needed throughout a system's lifecycle are defined together. We design the system architecture and choose the technologies used according to these objectives and definitions.
We have solid understanding and experience of providing added value to customers. The profitability of system investments is ensured through timely implementation and delivery of information systems.
Our strengths
We provide high standard systems for demanding information collection combined with database information management, information analyses and end-user applications to visualize the analyzed information.
Customer-oriented approach
Our operation is customer-oriented. We are committed to maintaining and developing the systems delivered throughout their lifecycle. In a long-term partnership, both the customer and the supplier are precisely aware of the current stage of a system's lifecycle, which enables fast response also to unexpected development needs.
Quality
The quality of information systems is premised on the understanding of customers' business and also requires professionally competent personnel, disciplined production processes and an end-to-end management approach. Intrinsic's software production process is continuously tested by customers for the ability to deliver high quality.
You can also order a feasibility study including an evaluation of the best implementation alternatives for your organization.
---
Consultancy services
Providing IT solutions requires up-to-date expertise and creative thinking in problem solving. Our professionals help customers in different phases of information system development. Consultancy services are divided into feasibility study, requirement gathering and analysis and project consultancy.
Feasibility study
In a feasibility study we define the problems or opportunities to be analyzed and solved, specify the current and target mode of operation and present an evaluation of implementation alternatives. A feasibility study can also include a service level and lifecycle analysis and a preliminary project plan for requirement specification and implementation. Based on the feasibility study, the customer can decide how to go on with the project.
Requirement specification
Requirement specification includes requirement gathering and analysis, specifying the system features and operations together with the customer and then documenting it all. The requirement specification provides the customer with the tools to assess the possible system implementation costs and schedule and to put up a tendering if decided. The requirement specification can be ordered separately or it can be part of a system implementation project.
Project consultancy
Our professionals help customers to manage challenging information system projects. We have solid experience in managing large development projects with many stakeholders. Our project consultancy tasks typically include keeping the project in schedule, budget, risk and change management, stakeholder policies, quality management and ensuring the deployment and operation in the production environment.
---
Road weather information and traffic management
Intrinsic supplies information collection and storage systems as well as traffic information center software for the road weather information system of Intelligent Traffic Management Finland Ltd. and also delivers road weather monitoring software to Destia Group. In addition, we are involved in major IT projects related to route E18 in Finland. The E18 Muurla-Lohja motorway project is the responsibility of Ykköstie Ltd.
The road weather information system is an automated system conveying weather and road condition information as well as forecasts to the personnel responsible for the maintenance of roads. The road condition network constantly observes the weather and road conditions on all main routes. Weather and traffic information are monitored through Windows and browser-based applications using map interfaces.
In winter, the cold and snowy Finnish climate creates challenging road conditions. The objective is to improve the safety and smooth flow of wintertime traffic.
The road weather information system increases the efficiency of wintertime road maintenance in varying weather and road conditions:
Weather and road condition information management
Proactive measures
Timely skid prevention
Fast mobilization
Optimized road salt usage
Systematic operations
IntrinWay
IntrinWay is a road weather visualization and decision support application for road maintenance professionals as well as for traffic centers and research units. Read more about IntrinWay and our RWIS services!.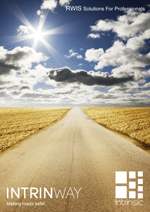 ---
Industrial information systems
Intrinsic supplies the industry with information systems that meet the needs of quality control and inspection, from laboratory-level information management to corporate-level quality management.
Our systems also support customer-specific product differentiation within the processing industry. All quality control systems are always designed based on a needs assessment conducted through solution consulting. Implementation is carried out using customizable components, and the implementation process is divided into subsystems that can be delivered and adopted individually.
Interested?